Sheriff
GET ALERTS TO YOUR MOBILE OR EMAIL VIA NIXLE!
Visit www.nixle.com and register to receive up to date alerts for crimes, traffic concerns, natural disasters, and other emergency notifications from the Santa Fe County Sheriff's Office.
NIXLE is a free service that allows you to receive trusted, up-to-the-minute, neighborhood information for where you live, work, visit – or for where your family and friends are located throughout the county. The information you want, from community messages to time-sensitive urgent public safety alerts for the locations you want, whether it's home, work, or where friends and family live – anywhere in the county with the delivery you want, information is instantly available by text message, email, or web.
Click here to view our latest notifications !
---------------------------------
Santa Fe County Sheriff's Office is Also on

First Term 2011-2014



Sheriff Robert A. Garcia

35 Camino Justicia
Santa Fe, NM 87508
Public Safety Complex
505-986-2455

SANTA FE COUNTY SHERIFF'S OFFICE MISSION STATEMENT
The Office of the Sheriff exists to serve the community. The protection of people and their property is our primary responsibility. Honor, Courage, Commitment, Leadership and Teamwork shall be the core values employed as we serve the citizens of Santa Fe County. In partnership with our communities, we will provide the highest quality public safety services. Our Department is dedicated to the health, safety and welfare of the public we serve and working with the citizens of our county to ensure the quality of life and the preservation of peace for future generations. Our mission is to deter, detect, apprehend and prosecute persons who violate county, state, or federal laws. We are committed to provide investigation of all criminal activity in Santa Fe County. We will ensure that the animal ordinance is enforced, to educate the public about animal ownership, to capture loose animals, and patrol the county. We are totally dedicated to this mission, to the County we serve and to accept the responsibility of attaining our goal of achieving excellence within our profession.
CRIME MAPPING FOR SANTA FE COUNTY - CrimeReports.com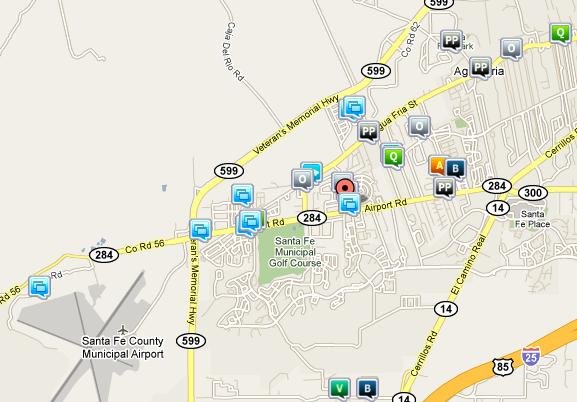 Crime Mapping for Santa Fe County in a partnership with CrimeReports.com allows both the public and deputies in the field to use maps to view analyze and learn about crime and preventative patrols in Santa Fe County. Crimes within Santa Fe County are mapped by block number within 72 hours. The data can be searched by crime type and includes case numbers. Sex offender information is also mapped and CrimeReports.com can send crime alerts via e-mail to subscribers,as well as through an iphone app available for free. Crime data is available for up to 6 previous months at a time. Santa Fe County Sheriff's Office arranged to offer this service to citizens as a way to combat crime and provide transparency by providing as much information to the public as possible. Neighborhood watch captains and members can use the data to raise awareness of problems in the neighborhoods they live in and allow you to help be our eyes and ears in the county and help "Take a Bite out of Crime!"
More about the Crime Reports iphone app.
* The CrimeReports iPhone app allows you to filter crimes by location or address, crime type, and customizable date range
* View data on the crime map or in a list view
* View national sex offender data alongside crime in your neighborhood
* Sign-up for free, automated, email crime alerts
* Request the participation of your local law enforcement agency if they're not already on-board
Click here to visit Santa Fe County Crime Maps
Click here to learn more about the iphone app.
Sheriff's Office Concerns
If you have an opinion, concern, or comment regarding the Santa Fe County Sheriffs Office feel free to send e-mail to: shfconcerns@santafecountynm.gov .
This is not the means by which to report a crime or to request assistance. For any emergency you can call Emergency Dispatch at 911 or for a Non-Emergency but requiring assistance you may call 505-428-3720.
Y para nuestra población Hispana del Condado de Santa Fe, pueden dar su opinión, alabanzas o dar comentario, o quieren apuntar cualquier asunto tocante del Alguacil de Policía del Condado de Santa Fe, se puede enviar correo electrónico a shfconcerns@santafecountynm.gov
Contact Us
Santa Fe County Public Safety Building
35 Camino Justicia
Santa Fe, NM 87508
(505) 986-2455

In memory of Leo Gurule.